We Are Passionate About Getting Effective User Conversations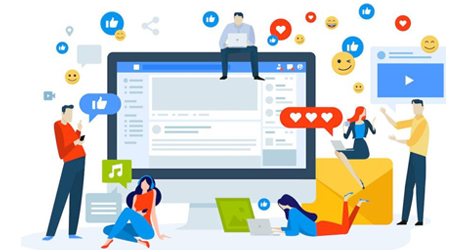 Want to grow your online presence? You have come at the right place. At Saskatoon Tech, we believe that being present on social media channels is important to gain publicity for your brand. Businesses must leverage the enormous power and reach of these networks to directly connect to their targeted audience both locally & globally.
Our Saskatoon SMM experts help businesses of all sizes with the power of social media. We create and manage effective and performing marketing campaigns that are sure to attract more users. Our SMM packages are customized to meet your unique marketing goals. With seamless and relevant solutions, we can help expand your brand's footprint.
Social Media Marketing With Your Business in Mind
Do you know the people spend most of their time on social media channels such as: Facebook, Google+, Twitter, LinkedIn, YouTube etc.. These are some strong media platforms that can help a business gain more traffic and enhance conversions. At Saskatoon Tech, we ensure that your product gets maximum opportunities to connect and engage with your consumers. The most probable reasons that will compel you to turn towards social media are:
Consumers rely on social media sites to make their opinion regrading a product.
People get influenced by their friends and different updates on social media sites.
Canada is among the top nations having the highest internet penetration rates.
Social Media Platforms We Serve
Enhance Your Brand's Image & Sales with Social Media Marketing
Social Media Marketing Experts You Can Count On
Want to generate the maximum buzz for your product and service? If yes, Saskatoon Tech can get you that. Our efficient team is known for designing effective social media marketing strategies to skyrocket your sales and leads. Our Saskatoon social media marketers will evaluate the desirable needs of your business and create an effective campaign that can grab attention of your target audience. Traits that make up stand apart include:
We have extensive experience in creating effective social media strategies to enhance awareness and visibility of your product.
We provide cutting-edge tools and softwares that are implemented to create and monitor social media campaigns.
Our experts keenly monitor the performance of the campaign and modify it as per your business needs to bring the best results.
Our social media packages are feasible and cost-effective. They are designed to meet every marketing budget, thereby ensuring maximum ROI.