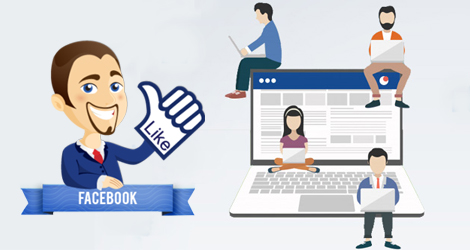 Do you want to reach or communicate with your target audience? If yes, Facebook Fan Page is an effective medium for representing your business on the social platform. With more than a billion users, Facebook has emerged as the biggest social networking site which provides an array of advertising and marketing services for businesses that want to promote their brand online.
At Saskatoon Tech, we are a leading digital marketing company providing best-in-class Facebook fan page creation service in Saskatoon region. No matter, you own a small or a large business, we are here to boost the social presence of your company with online branding and promotion
Why You Need A Facebook Fan Page?
A Facebook Fan Page not only allows your business to build a positive reputation on the social media but also helps in improving the sales, conversions and visitor engagement. They are a great way of communicating with customers and clients. With fan page marketing in Saskatoon, we can help:
Display your latest products, services, and promotions.
Build your brand's loyalty and promote company offers.
Respond to customer concerns, questions and compliments.
Generate More Leads & Business Visibility With Fan Pages
Our team of Facebook marketers at Saskatoon Tech offers engaging solutions and launch a marketing campaign to craft a lead generating fan page. From brand awareness to user conversion and social advertising, you can rely on us to meet your marketing goals. Our Facebook page setup services include:
Customizing Facebook fan page.
Setting up a Facebook account & page profile.
Customizing optimum sharing settings.
Uploading your brand's logo & profile image.
Feeding your blogs to the fan page.
Monthly fan page management reports.
With our Facebook fan page creation and management service, we are assisting the local businesses in reaching the global audience. With the latest targeting tools and years of experience, our Facebook marketing experts specialize in fine tuning campaigns, nurturing communities and improving your ROI.