Engaging Smartphone Apps That Achieve Your Business Objectives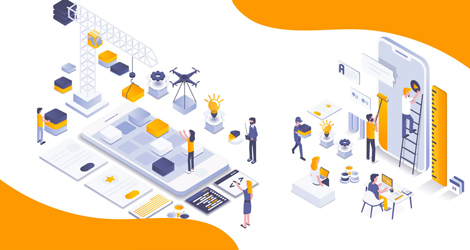 When we hear the word mobile, the only thing that comes to our mind is its operating system, features and apps. Android and iOS, two of the biggest operating systems, have revolutionized the working and benefits of owning these smart devices. They have achieved this marvelous feat by giving great platforms for App development.
Saskatoon Tech is a leading mobile app development company in Saskatoon that is focused on creating successful Android and iOS apps to turn your dream of mobile presence into a reality. We deploy amazing mobile apps that not only gain more downloads, but also earn top rankings in the app stores
iOS Mobile App Development
At Saskatoon Tech, we have a team of skilled iOS app developers who have successfully delivered our customers the perfect apps for their ideas. Whether its related to sports, entertainment, music, e-Commerce, retail, travel or any other category, we have the perfect skills to craft your idea into an awesome iOS app. No matter, it is an iPhone or iPad, we deliver apps for each of the devices in a unique manner that makes them shine in the mobile world. We know that developing a mobile app is a costly investment and therefore, we strive to deliver you the best. Our apps can be easily customized for adding more features, updates and functions on iOS platform.
Android Mobile App Development
Android is the most used operating System in the world. It provides a great opportunity to varying businesses and individuals to get their ideas reach out to maximum number of people, possibly through successful apps. This ultimately helps your business grow over time. Our team understands your idea or business concept and then refine it well before going for designs. We have access to creative and innovative designs that are perfect to add animations, backgrounds etc. to make your app an apt choice across global users. We understand that android is growing constantly. This is the reason why our team always look to develop the right apps to match the latest android trends.
Our Mobile Application Development Approach
Our Saskatoon mobile app developers are not confined to develop a similar application for multiple mobile operating systems.
We are skilled, knowledgeable and proficient enough to design & build apps for business, lifestyle, entertainment, sports, and more.
Our aim is to deliver apps that actually boost conversions for your business along with generating brand & product awareness.
No matter, you need hybrid or native mobile apps, we'll equip your business with most converting & user friendly applications.
Why Choose Saskatoon Tech?
At Saskatoon Tech, we follow the latest technologies and cutting edge mobile app development processes to ensure that you can enjoy an edge over your competitors. With our developed apps, you need not worry about your leads, sales and conversion rates. Some reasons to choose us include:
Our skilled team is not limited to anything. We are capable of handling diverse app ideas.
We utilize the best tools and latest technology to shape your ideas into a perfect app.
We are well experienced to develop android and iOS apps for varying scale businesses.
We deal in fair prices and provide 24 hours customer support for every app related query.