As you have heard of one phrase "first impression is the last impression", Website design is responsible for nearly most of a visitor's first impression of your whole website. That's why it's become more important to focus on your website design to perform better in the market.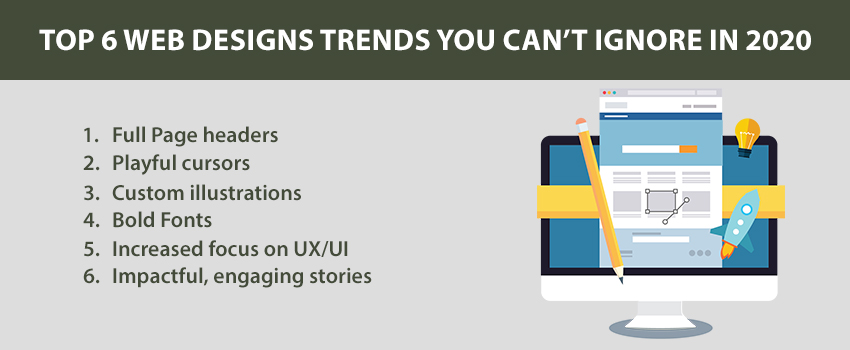 Maybe, now you are thinking of how you will get to know which design is trending on the horizon for 2020 and how you can use those web designs to make your website more stunning???
Don't worry, just keep reading this article, Saskatoon Tech has shortlisted 6 web design trends, from which you can steal inspiration to perform better this year!
1. Full Page Headers
Full-page headers are a new way and become one of the best web design trends in 2020. Usually Web designers can implement various header variations on the website, but to make a website more attractive, the web designer can set up involves adding key text or call-to-action (CTA) buttons to the left of the header and set eye-catching images on the right side. It is because as per the research, visitor always tends to focus most of their attention on the top-left of your website page.
2. Playful Cursors
In 2020, playful cursors have come up like a new technique to improve the browsing experience. Now, most of the new websites often feature cursors that make a new experience for a visitor.
Implementing this trend on your website is just as simple as changing the cursor shape, color, or as complex as coding cursor-triggered animations. Either way, all visitors will have a great time to get engaged with unique cursors.
But keep this in mind, your cursor should not be much, but adding just a minor unique element to your cursor will add some spice to your website design.
3. Custom Illustrations
Illustrations are what actually gives life to your website design. When it comes to illustrations,  inspiration comes from print publishing and other traditional art formats. Which takes illustrations to one of the best web trends in 2020.
Those days are gone, when you were using cookie-cutter stock images for your website design. Now, websites with custom illustrations performing better than earlier in 2020.
Now digital designs pull in 3D illusions which have added another layer of depth to the browsing experience for visitors.
4. Bold Fonts
In 2020 Modern web design will play even more with Various styles of fonts as compared to 2019. San-serif and serif fonts are still popular as they were earlier, and vintage type is surprisingly doing a great comeback in branding.
Even Outlined type and bold type are also you can see in most of the famous web designs in 2020 — from quoting brand names to headings of the landing page, where screen dominating text is the most prominent type trend of all.
Make sure to choose the Right font that matches your audience, your brand, and the most important – the goal that you want to achieve. Choose easy to read typeface for the body text of your content which will improve the readability of your text.
5. Increased Focus On UX/UI
As web designs were generally focused on humans in 2019, even in 2020 it becomes more important. So, as to be more competitive in 2020, your website's UX must be smooth and uninterrupted, it means:-
Fast page load speed
Readable, scannable and Relevant SEO content
Contains multimedia files
Web designers mix functionality with creativity to create a great UX for the website, but it's not enough. With UX, your site's user interface (UI) must be simple and understandable in 2020. Which means, it must include:-
Voice enable interface
Video transcriptions
Image captions
Balanced motion designs
Make sure your website animation and videography should be mobile responsive, must in 2020.
6. Impactful, Engaging Stories
Not the least, Telling stories will shine website design in 2020 and increase engagement with visitors. To evolve your website into a genuine modern website, you should learn how to tell engaging and compelling stories in your content. Not only this, but it will be also helpful in advertising campaigns.
Wrapping Up
Website can be a good income source and to convert visitors into leads. So, the website should be eye-catching and responsive. With stunning website design and an interesting story, your website will engage visitors and convert your target audience. You can use these above-mentioned web trends in 2020 to convert your website into a more productive one.