Managing your WooCommerce store is not an easy job to do. You need to up to date yourself in a consistent manner in order to take maximum advantages of the platform. There are a number of ways to keep in touch with the latest updates; however, reading the relevant WooCommerce blogs is often regarded as one of the best options to go with. But, there are tens of thousands of WooCommerce-based blog sites available on the internet. In that case, it is important to know which WooCommerce blogs to follow and which ones to avoid. So, here, in this article, you will know five such critically acclaimed blogs that you should follow in order to be aware of upcoming changes, the addition of new features, and so on.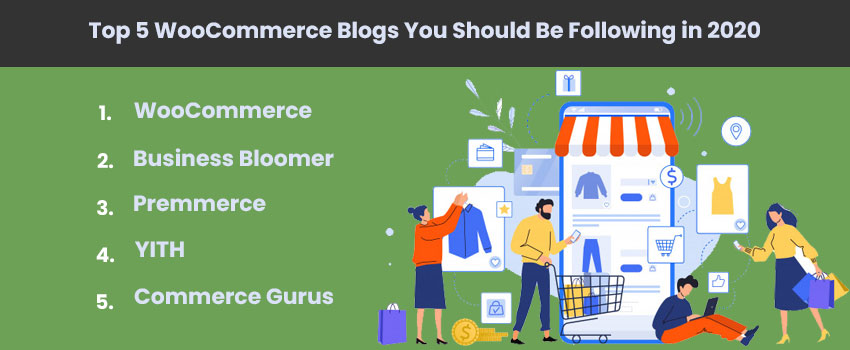 WooCommerce

Experts in the industry always prefer to follow the original website for the latest updates. By following the blogs on the official website of WooCommerce, you can successfully keep track of authenticating news and possible changes in the near future. The official website of WooCommerce is the first place to update even for any minute changes are concerned. You can not only get updates regarding the product update but also, there are a number of tips and suggestions that can potentially transform your WooCommerce store.

Business Bloomer

Though Business Bloomer is not the official source of WooCommerce by any means, here you will get an incredible amount of resources as far as WooCommerce is concerned. You can also avail of tutorials and video lessons from this platform. It is advisable to sign up for the WooCommerce email newsletter there on a weekly basis to never miss any update from this particular site.

Premmerce

Premmerce is one of the most popular WooCommerce solutions, which offers you everything that you require to know in order to run your platform smoothly. The best part about Premmerce is they are entirely dedicated to offering solutions for WooCommerce. As a result, here, you will get a number of blogs and articles dedicated to WooCommerce exclusively. Besides, on the platform, you can expect blogs on different topics, such as WooCommerce development, theme designs, search engine optimization, and so on. So, it is highly recommended to subscribe to this website for getting specialized content on a regular basis.

YITH

Yith is known for offering different WooCommerce plugins and WordPress themes. However, they also produce quality WooCommerce Blogs in Saskatoon that you should not miss. By referring to their blogs, you can gain practical knowledge of setting up and managing your WooCommerce store. For example, their blogs cover an array of topics, such as ways to add virtual-digital products, effective ways to set up product tags and categories, and so on.

CommerceGurus

Though the blogs at CommerceGurus are not exclusively related to WooCommerce, over the years, it has created some quality content related to this particular platform. Some of their blogs offer a step-to-step guide to carry out different tasks, such as how to set up an impressive thank you page, etc. It makes the platform worth reading, especially if you are a WooCommerce user.
Wrapping it off
These days, the number of WooCommerce platform users is increasing exponentially, which was never seen earlier. Experts are predicting that the ongoing trend is expected to continue in the near future as well. In that case, you can expect more stiff competition, and you should take measures in order to stand a step ahead of the crowd. As a result, it is highly recommended to take the help of a WooCommerce Saskatoon firm for a reliable experience. Though there are a number of firms offering WooCommerce Development Saskatoon, very few are reliable enough to trust. In such scenarios, you need to carry out extensive research on each of the firms and opt for an experienced firm like Saskatoontech for the best possible result.