Are you someone who has a retail business that is blooming and you're thinking about how to expand your sales on a larger scale? Getting in terms with an eCommerce website can prove to be a great help to you. Contacting an efficient Website Development company will give you a broad perspective on ways to grow your retail business on a larger platform. If you're a part of any retail, or if you are thinking of starting one, there's never a safer time to earn a better understanding of what it takes to maintain an online business using the eCommerce Website Development company, saskatoontech.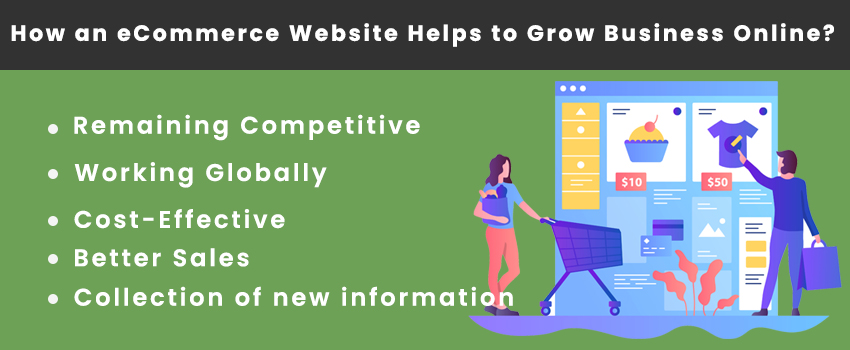 SaskatoonTech is a useful Web Design & Development Company, situated in Sasktoon. It provides affordable and amazing WordPress websites, e-Commerce stores and mobile apps to help you flourish your business on an online platform.
There are several ways by which an eCommerce Website can help you grow a business online. Some of them are discussed in detail below:
Remaining Competitive- In today's world, online shopping has taken over conventional store-shopping. Online shopping is likely to expand at a great speed among Gen X, as well as the millennials. That is why you must learn about e-commerce as soon as you can.
Working Globally- It might appear to you that staying local is beneficial, but once you refer to the company's providing website development, you will get exposure. This will help you in expanding your retail business at a global level. eCommerce website, SaskaToonTech is a well-known source for starting your eCommerce journey.
Cost-Effective- As e-commerce tends to carry far lower costs than stores, adding an online resource to your retail business won't need to be a risky investment. In most cases, it would be a better choice than opening another showroom. Website development companies help in providing you a platform that will help you in running your small-scale business, on a larger platform.
Better Sales- Several people only rely on online purchases. By getting in touch with the eCommerce website development company, saskatoontech, you will be able to target that audience. Good website design and development will also help you earn a good Google rank. An important point to note is, if your marketing strategy is good, people can drive to the physical location of your store, as well as buy the products online.
Collection of new information- Having an eCommerce site likewise offers a simple method to catch significant information you can use to charm clients and drive deals. Gather client data by requesting that guests pursue your email promoting list. This permits you to associate with them later, putting your business ahead for their future buys. Incorporate a tool that assists you with sending a newsletter, greeting, or item or product announcement, or simply a brisk update.
These were the ways through which an eCommerce website can help you grow your business online.