Managing your company's online presence might not be as easy as is seems to be. No matter, how much hard work had you put inside, still some frustrating performance issues will come up to ruin your peace of mind. Emergencies can even take place on the internet, and despite your best practices, it becomes difficult to save your site from a hack or breakdown.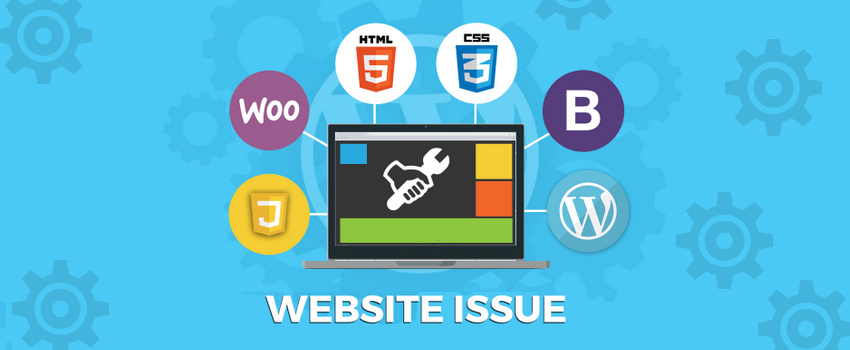 The websites that are not performing well can have a detrimental effect like lower online traffic that can result in business loss. No matter, you own a startup or a large organization, if you don't pay attention to regular site updates and maintenance, you'll not be able to gain profits.
Here are some common problems that occur on your website. Also, read about their solution to prevent a negative effect on your online business.
Some common website issues include:
404 Errors

The 404 errors are frustrating not only for the web managers but also for the website visitors. Your visitors want a simple solution to the problem they are facing when searching for a specific product or service. There are several reasons behind the 404 error such as request to pages that have been deleted or a URL that doesn't exist. In any situation, this error is a sign of something gone wrong.

Solution: Google Analytics and Google Tag Manager are the two simple ways to track 404 errors. These tools can help you know what causes this error and how this can be handled. It also gives you a pretty good idea why users are stumbling upon specific error on your page.

Website Content Getting Scrapped

One of the worst thing for online users is getting the content, images, videos or sometimes the entire website scrapped by a mysterious entity. Scrapping is equivalent to identity theft. No one would like to see their hard work been duplicated within just a few minutes. Content scrapping can make a significant impact on your online business and damage its reputation. Moreover, Google penalizes duplicate content.

Solution: Run a WHOIS Lookup that enables you to know who invades your domain. Using this, you can directly reach out them and alert them about the scraping. You can even take help of an informal cease-and-desist letter or make a complaint with the domain and hosting company.

Google Search Is Not Showing Updated Result

Did you ever faced a condition where you made some changes in the site or deleted some pages which were not required, but still search engine is showing them? If yes, you may understand how challenging the situation is to handle. You don't want your SEO efforts to direct the traffic with outdated information.

Solutions: Register your website with Google Search Console to ensure that you have ownership of that particular site. Then take a step ahead to decide which page and information you should delete entirely and which you should set up a 301 redirect for.
Other Problems With Your Website
Poor design of your website makes it no longer stand out in the competitive online business.
Non-responsive websites are unable to drive traffic to their business and degrades sales.
Slow loading sites can result in the count of your site visitors.
Lack of images and videos make your website less interesting.
Getting your website maintenance without the ongoing support of professionals.
The solution to all these problems is to use the right platform like WordPress to build a website because it provides you with several benefits. Use the necessary plugins and themes which improve your site speed and functionality.
Saskatoon Tech is a web design and development company that specializes in WordPress website development. From launching a well-tested website to making it rank on the top positions, our team of experts is always here to help you. Call us today to get a quote.