Search engine operation is the first and the most important step in the success of your website and content. Google updates its SEO and working frequently. Thus, you should be updated with the latest trends in SEO.
Knowing and implementing current SEO trends and strategies will help you create strong and helpful content. The most important thing is to know that Google ranks websites based on keywords and relevance.
We, at SaskatoonTech will talk about the latest trends in SEO in 2020. With the changing market, consumer preferences have changed and so have Google's policies, these trends have been changed according to it.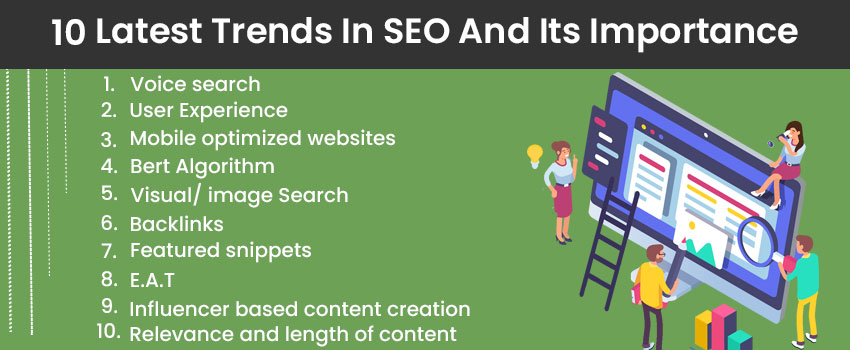 1. Voice search:
Voice search isn't a new feature, but it has gained attention recently. Due to the availability of smartphones to people of every background and status, voice search became the most preferred option. Thus, your content must be voice search optimized so that Google ranks you high when it searches for required snippets.
2. User Experience:
Google has set some high standards for its search results. Users want the search results which are most relevant for the user. User experience includes high uptime, fast loading of text, images, and videos.
Websites must be made keeping in mind the user experience which will rank your website higher In the search results. UX can be improved by important customer feedback.
3. Mobile optimized websites:
Google has focused on the fact of how mobile devices have taken over the browsing market. 80% of users have used mobile devices for browsing through the internet. So, the content has to be edited and made which is optimized for mobile devices.
Content creators must focus on website optimization that will work perfectly on both mobile and desktop.
4. Bert Algorithm:
Bidirectional encoder representations from transformers, the Bert algorithm focuses on judging the site based on how the content answers the search. The focus should be on the client's ability to answer the searched keyword.
5. Visual/ image Search:
After Google rolled out its much-awaited feature of google lens, the website's focus turned as to how the site's content should be made relevant for the image search result. The virtual search has been on the rise due to its versatility and ease.
People generally look for a specific product, business, reviews, question and answer, famous personalities, recipes, etc.
6. Backlinks
SEO is highly powered by the backlinks gained by various sites. Writing guest blogs, mentioning other sites in your content, etc. can be useful in gaining recognized backlinks.
Quora has been on the rise and getting website visitors from it will certainly improve the search results.
7. Featured snippets:
SERP displays the prominent result to the user for the user, due to most search results ending in no-click. This most certainly should be resolved by creating powerful and rich snippets. You can use meta title, meta description, reviews, user comments, etc. to attract the users.
8. E.A.T:
Expertise, authority, and worthiness is the full form of EAT. This parameter helps in making content that performs well in the BERT algorithm. You can consider its use for better SERP ranking. The focus is on content relevance, brand authority.
9. Influencer based content creation:
The influencer market is on the rise and users on the internet feel more connected to content endorsed or promoted by an influencer. Websites can market content in a way that users find more influencer involvement.
10. Relevance and length of content:
With more and more focus on quality, only high-quality content will make you win the competition. The length of content should be ideal; for the search and content should stick to the relevance.
These are some best trends that are present in the market in 2020 which will transform your business and make your dream a reality. So, contact us today and take your business to the next level.